Ruislip Reservoir Early History Page 2
Early history of Ruislip Reservoir 1927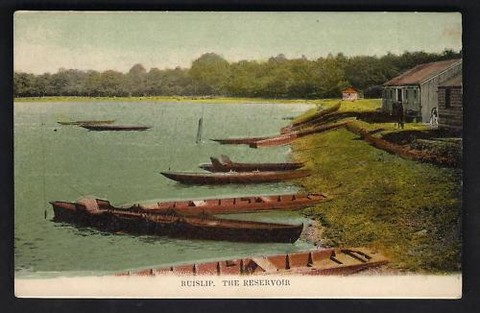 The Regent's Canal Company bought the GJCC in 1927 and both became part of the Grand Union Canal Company (GUCC) in 1929. In the early 1930s, this organisation began work to develop the area as a 'lido', making the most of their newly acquired asset. The centrepiece of the Lido development was a new main building, constructed to the designs of Edward Prentice Mawson, opened by Lord Howe on the 20th May 1936. The swimming area was situated directly in front of the main building, surrounded by a large lawn where patrons could enjoy the surroundings.

The pool itself was formed by cordoning off a portion of the reservoir, with a concrete base in the water flanked on either side by piers in a horseshoe shape. The main building itself contained a cafeteria, and the buildings either side housed the turnstile, ticket area and changing rooms.
Ruislip Reservoir around 1939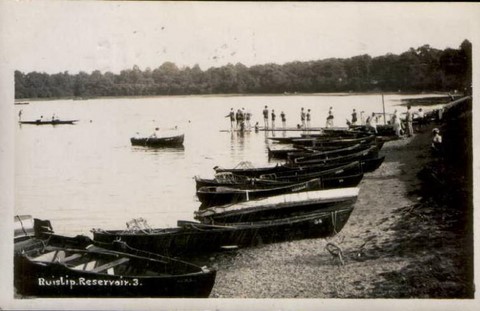 With the outbreak of war in 1939, the Lido was closed and the main buildings taken over by the GUCC as 'Transport House' to accommodate staff evacuated from the immediate danger of the bombing of London. Later on, the bombing of the nearby RAF Coastal Command Headquarters in Northwood prompted the shape of the reservoir to be modified with pontoons and netting, so that from the air the shape no longer pointed directly at this prime target!


With the end of the war nearing, the canal company was looking to the imminent return of daytrippers from London. A subsidiary of the company was formed in September 1943 to develop the Lido, christened 'Grandion', various attractions being installed ready to greet the crowds, when they came.

The postwar period saw families flock to the 'seaside' at the Lido, to enjoy the attractions on offer, including the miniature railway on the southern shore of the Lido, opened in 1945. The Lido was generally a profitable enterprise for Grandion, although being so dependent on the weather (as is still the case today), these profits were subject to wide fluctuations. For example, in the 1948 season, the weather was generally poor (particularly at weekends), making a profit of £1,794. After making provisions for income tax and other adjustments, the company's accounts showed a net profit of just £49. On the contrary, in 1949 when the weather was exceptionally good, there was a gross profit of £7,500, and a net profit of £5,600.

After nationalisation in 1948, the reservoir (and former feeder) became assets of the British Transport Commission, although continued to be operated by Grandion as a separate enterprise. After lengthy negotiations the reservoir was purchased by Middlesex County Council (in the form of Ruislip-Northwood Urban District Council) in 1951, passing into the hands of the London Borough of Hillingdon when this was formed in 1964.