Ruislip Lido Railway
The Ruislip Lido Railway
Below are a list of key dates in the history of the Ruislip Lido Railway

July 1945 - As part of the post-war attractions developed at the lido by a subsidiary of the Grand Union Canal Company, the railway opens as a 400m dog bone shaped circuit, running from Woody Bay out into the woods and back.

1951 - Ownership / operation of the railway and lido as a whole passes to the Ruislip-Northwood Urban District Council.

March 1960 - The original steam locomotive 'Prince Edward' built by George Flooks in nearby Watford departs from the railway, and is replaced by a new American outline petrol-electric locomotive, built by Geoffrey Hunt of Bristol.

April 1974 - The petrol-electric locomotive, by now thoroughly life expired is replaced by a new petrol-hydraulic locomotive from Severn Lamb Ltd, named 'Robert'. The remains of the petrol-electric locomotive are later sold to a local miniature railway operator.

May 1978 - An accident takes place on a sharp curve at the far end of the line, due to the train being operated at an excessively unsafe speed coupled with a prolonged lack of maintenance on some sections of the track. The railway is closed for investigations, and later remains closed for the remainder of the 1978 season due to the cost of reopening following the conclusions of the investigation.

May 1979 - Following a determined effort from particular local council officials & employees, the Ruislip Lido Railway Society (RLRS) made up entirely of volunteers is formed to provisionally take over the operation and upkeep of the railway. Trains initially run for the 1979 season under council operation, supplemented for 1979 by RLRS members to 'learn the ropes' pending handover of the railway.
The Ruislip Lido History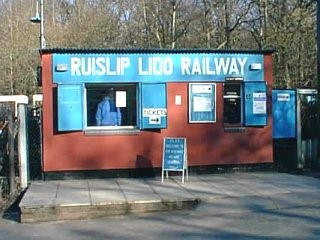 Good Friday 1980 - The first trains run under RLRS operation.

September 1986 - First stage of the railway extension to Eleanor's Loop opened.

July 1990 - Second stage of the railway extension to Haste Hill opened.

August 1997 - Third stage of the railway extension opened to Ruislip Lido (Water's Edge), bringing the total journey to just over a mile.

October 1998 - 'Mad Bess', a steam locomotive built predominantly on site by RLRS volunteers enters service, returning steam to the RLR for the first time since the end of the 1959 season.
April 2014
- Ruislip Lido (Water's Edge) station is officially renamed to Willow Lawn, following extensive investment and re-development around the lido side from the London Borough of Hillingdon, including a number of new buildings on the railway site and at both stations.
---
You can read more about the Ruislip Lido Railway from
their web site here
or buy the book charting the history of the railway
here